Windsurfing Trial Lesson for Beginners
Get onto the waves and feel the rush of the wind with our half day or one day trial lesson. Our staff is here to support you so you can refresh yourself as you skim the waves.
---
Morning Lesson ¥4000 (excl. tax)
1-day Lesson ¥7000 (excl. tax)
---
10:00 Meet at Marine Blue Club House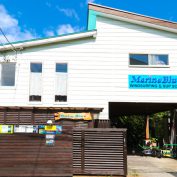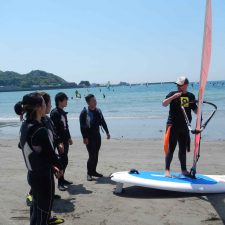 Our staff members keep an eye on the sea conditions to help you have a fun, safe, and enjoyable day. Start with some on-beach training as you learn the basics of windsurfing
Short Break on the Beach. We bring a cooler box to the beach, so you can enjoy your cold drink while catching your breath! If you take a full day lesson, we recommend you bring something to snack as well.
(morning lesson ends here)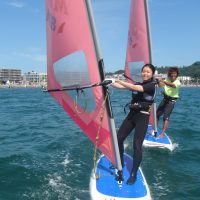 Time to head out on the water and get a feel for the full deal! Whether it's your first time windsurfing or just getting back into after a while, you will love the feel of the wind and waves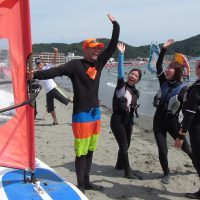 Go back to the clubhouse and take a refreshing shower
14:30 ~ 15:00 Check-out at Marine Blue Club House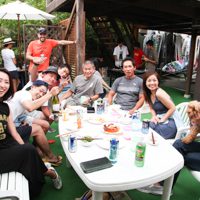 Thank you for coming! We are looking forward to seeing you again!
Notes
---
Restrictions
Age: 13+
English lessons available from Thursday to Sunday (Other days please ask)
---
Required Items to Bring
Swim suit / towel / shoes that can get wet (sneakers etc.) / beach sandals / lunch
Marine boots can be rented for ¥500 (excl. tax). Sizes range from 23cm to 28cm (US 6~10 / UK 4~9.5 / EU 37~44)
---
Additional Notes
Trial lessons will be held with 2~4 people per board (depending on weather conditions, and number of reservations)
Reservations / cancellations are subject to change due to weather conditions
Cancellations are free of charge and can be made until 1 day before until 17:00
Half day lessons are morning only
We

do not

 offer rental equipment
Reservations should be made at least 1 day in advance until 17:00
Half day lessons are morning only
Maximum group size 4 people (for groups of 5 and more, please ask)
---
Payment Methods
Currently we only accept cash payment or PayPay